When our campus is due funds or owes payment to another CSU Campus or the Chancellor's Office money, a process called Cash Posting Order (CPO) is utilized. This is the process used to move funds back and forth between CSU campuses and the Chancellor's Office, eliminating the use of invoices and checks. 
What is a CPO? 

Stands for Cash Posting Order – Mechanism to move SWIFT dollars to settle inter‐campus  transactions. 
SSU receives and remits payments to other campuses as well as receives and issues  payments directly to the CO. 
This is the process used to move funds back and forth between CSU campuses and the  Chancellor's Office, eliminating the use of invoices and checks.

Why do we issue CPOS?

 CPOS: 

Consistent Accounting  
System wide Elimination  

Checks:​

Slow
Costly 
Inconsistent Accounting 
Timing Delays 

Where can I find the CPO Request page and historical CPOS?    Full CPO guidelines from the Chancellor's Office are also available at the CalState website.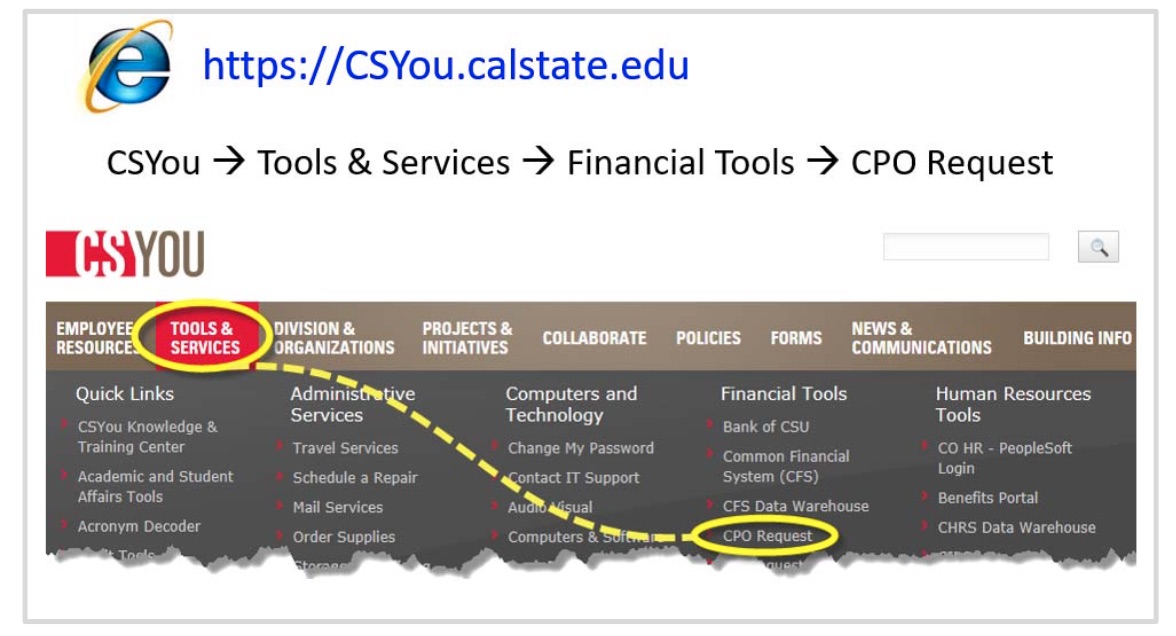 **Requesters/Approvers for SSU – only in Accounting Department
  4. Who (what campus) should request a CPO?
 General Rule: Receiving Campus requests CPO (Accounts Receivable Department)
 Exception Being: remitting to multiple Campuses
 Examples:

Conference Registration dues to be paid to another campus. – Host campus will initiate CPO.

Chancellor's office will reimburse travel expenses – Sonoma would initiate CPO.

Our campus hosts a conference ‐ Sonoma would initiate CPO.
  5. When to request a CPO?
 In the same accounting period
 After obtaining payment approval
 After obtaining supporting documents
 After ensuring all campus participants are included on a single CPO request
   6.  Providing CPO Chartfield coding:
  SWAT or Budget related CPOS with corresponding 572xxx or 672000 account series are managed by the Budget Team (Hayley Ross), who will notify you of incoming funding.

  If remitting payment to another campus, you will need to provide a FIRMS Object Code along with campus unique Chartfield information. Accurate campus unique Chartfield information provided on supporting documents avoids the need of the journal reclass team contacting you for fund and department coding.

  Keep in mind ALL CPO requests have outlined accounting instructions. We strictly adhere to the provided instructions unless there is a strong accounting related reason to post elsewhere.

  Some CPOS include instructions on account and CSU Fund requirements. Example being, lottery funding must be posted to CSU 481.
   7.  Additional CPO Information:
  All incoming and outgoing CPOS are processed by the journal reclass team.

  If campus unique Chartfield coding is not provided on supporting CPO documents, we

will reach out to you for an approved fund and department.

  Auxiliaries cannot use CPO transaction process.

  Other times when a CPO may be used:
i. Awards/Grants
ii. Release Time
iii. Cost Recovery iv. Training
iv. Training
v. Allocation of centrally paid expenditures (i.e. Fire Marshall charges, library subscriptions, etc.)
To request a CPO - Complete a Billing Request Form and include any communication regarding chartfield approval from other campuses.